As families are seeking self-defense guns in local gun stores with plague emptied shelves, a hero rises in Idaho. Lone Wolf Arms' new Lightweight Tactical Defense (LTD) pistol is an American-made improvement on the world's most common handgun. Using readily available magazines and upgraded parts of common design, the new LTD provides quality and value for an MSRP of $699.95
Since its founding in 1998, Lone Wolf has been a leader of innovation in the Glock aftermarket. With the Lightweight Tactical Defense (LTD) pistol line, Lone Wolf makes the leap to whole guns, marrying their Timberwolf Frame to their upgraded slides and barrels.
Three reasons the LTD is a big deal:
The LTD is not a clone. The Timberwolf frame's grip angle is a traditional American, naturally-pointing design. It offers a slimmer feel with modular adjustments that offer a custom fit. It is smaller and lighter than a G-19.
The radiused under-cut trigger guard and high beavertail lower the bore axis. The reduced slide mass cycles faster with less force. This all combines to provide less felt recoil to the shooter for quick and comfortable shooting.
The LTD keeps the reliability and performance of easy-to-find Glock-pattern magazines and uses many common parts making maintenance and customization a snap.
Something I value greatly is the simple design of the gun. If you walk into any local gun store in America (and much of the world for that matter), there will be someone who knows how to replace every part on the LTD and they probably have most of them in stock. I can't say that about other designs even though I may like them (looking at you 1911).
Magazines
I have to tell you, common magazines are a strong pull for me on this gun. I have bought guns that came with one magazine and now neither the gun nor their magazines are currently made. They require some intense google-fu or gun show luck to find mags. Unique magazines are never cheap and you better get them when you find them because they are not around forever.
Magazines are not durable. Like tires, shocks and motor oil in a car, magazines are intended to be replaced after a certain amount of use. My SF weapons sergeants always said that 85% of malfunctions are caused by magazines. My experience proves this out. Don't keep magazines that don't work. Throw them away or give them to someone you don't like.
The good news is that you probably already own Glock pattern 9mm magazines that will fit. If you are new to shooting, they are in stores and all over the internet. I have had good luck with KCI USA mags.
The LTD comes with one Glock Gen4 magazine. If you use a left-handed magazine release, you will need a Gen4 or Gen5 magazine. If you use the right-handed magazine release, Glock mags are reverse compatible back to the first generation. Any 9mm magazine of 15 rounds or larger will work. If you need a left-hand magazine release or a 10 round magazine they are also fairly easy to come by.
Lone Wolf doesn't want to sell your extra magazines you may not need. If you do need them, I suggest that you buy them now. You don't need a dozen, but most training classes require three.
Features
The LTD has some custom features built-in. While it accepts inexpensive mass-produced parts, they don't come standard. The LTD is an upgrade.
The most common failure I have seen on Glock pattern guns is the hook of the extractor breaking off. When extractors are made by metal injection molding (MIM) they just don't last. Lone Wolf uses a casting that will be running long after MIM parts fail. The Lone Wolf reinforced extractor has a subtle but effective loaded chamber indicator.
There is a stainless steel guide rod for durability. The enlarged Gen4 magazine release can be placed on the right or left if you have Gen4 magazines. The Gen3 extended slide stop provides just the right access without hanging up.
The trigger is a very serviceable 6.5 pounds and with a smooth break from a well-defined wall. I really like this trigger for practical carry/duty guns. The sights are Glock dot inside a U.
The frame will accept both Gen3 and Gen4 slides with a clever adapter. Don't try that with another guy's frame. It has a removable magazine well funnel and two changeable backstraps with a lock-in hook accessed inside the magwell.
A nice case with a Lone Wolf logo and a gun lock holds everything together. There is a detailed manual describing all the features of your new LTD and operating instructions.
Off to the Range
The LTD did not disappoint at the range. I used a variety of ammo including Wolf steel case running it through Glock OEM and KCI USA magazines. Everything cycled and functioned with no issues. Mags dropped free and the slide locked back on empty.
The radiused under-cut trigger guard and high beavertail lower make a big difference. Combined with the reduced slide mass there is less felt recoil to the shooter. You feel the difference with the first shot.
For accuracy, I went to SIG M17 ammo. SIG has paired hollow points and training ammo so that you can train with FMJ that is a ballistic that matches your defensive JHP.
LTD-19 Options
Frames are available in grey and black. There are two slide variations, both available in nitride or stainless finish. I went with the non-black options. Both slide variations offer reduced reciprocating mass.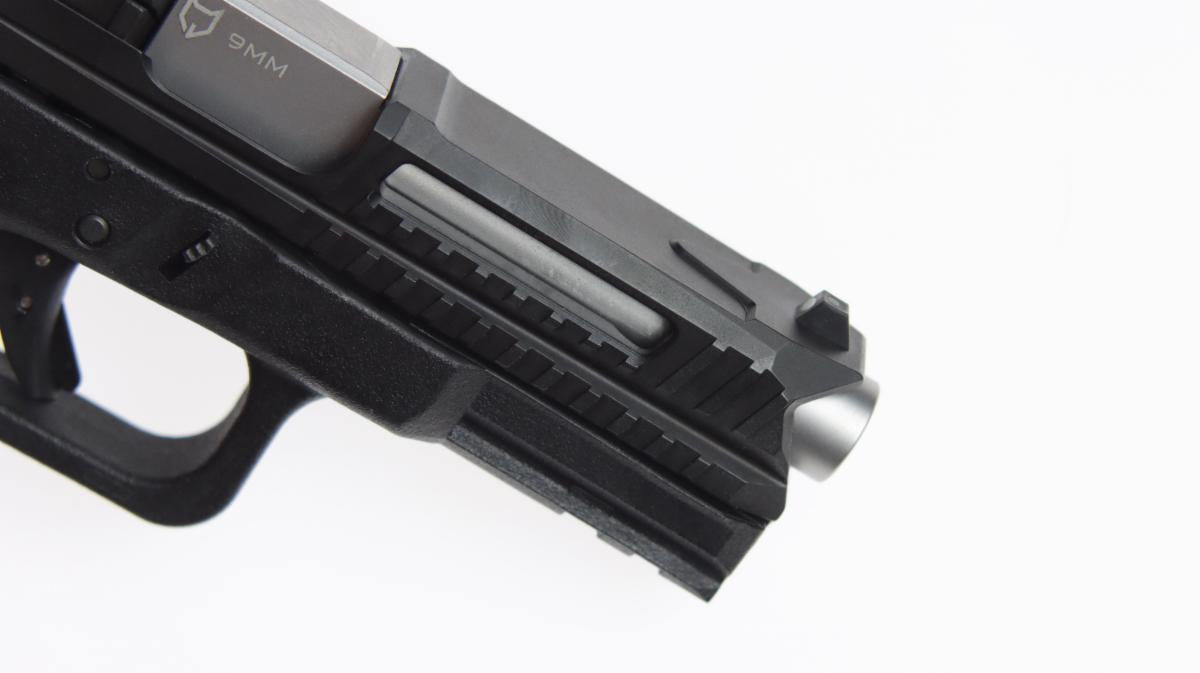 LTD-19 Specifications:
Weight without magazine: 19 ounces
Length: 7.16″
Barrel Length: 4″
Frame 1.49″
Sight Radius: 5.9″
Trigger Pull: 6.5lbs
The LTD is a nice size for every day carry. The modular nature helps it conform to the shooter's hands. It is a good compromise between concealability and shoot-ability.
Holsters
I always face a new frame with hesitation. Yes, I love the new features, but does anyone make a holster for it. Will it fit in a holster that I already own? In this case, LTD-19 wins. It fits in every Glock holster I tried and the retention features worked.
The practical size of the LTD-19 allows it to fill many roles. In conditions where you don't need concealment, you can add a light and a practical holster with a couple of mags and a medical kit.
There are times when you need to get outside the waistband. Going through a class shooting a couple of hundred rounds can make inside the waistband very uncomfortable.
Lone Wolf Arms' new Lightweight Tactical Defense (LTD) pistol may not be the answer for every shooter, but it is a quality American-made handgun that provides reliable performance in a package that adapts to fit most hands. It uses available components and magazines which make maintenance and upgrades easy and affordable. My only complaint is that it didn't come sooner.
LTD pistols will be available directly from Lone Wolf Distributors for shipment to a local FFL.