I have a bunch of flashlights. The Blackfire Waterproof Clamplight has replaced most of them and has become my go-to work light, even indoors when the power is still on. The Clamplight is a 300-lumen handheld flashlight, a clamp light and a stand light — all in one. For around $30, in my opinion, purchasing one is a no-brainer.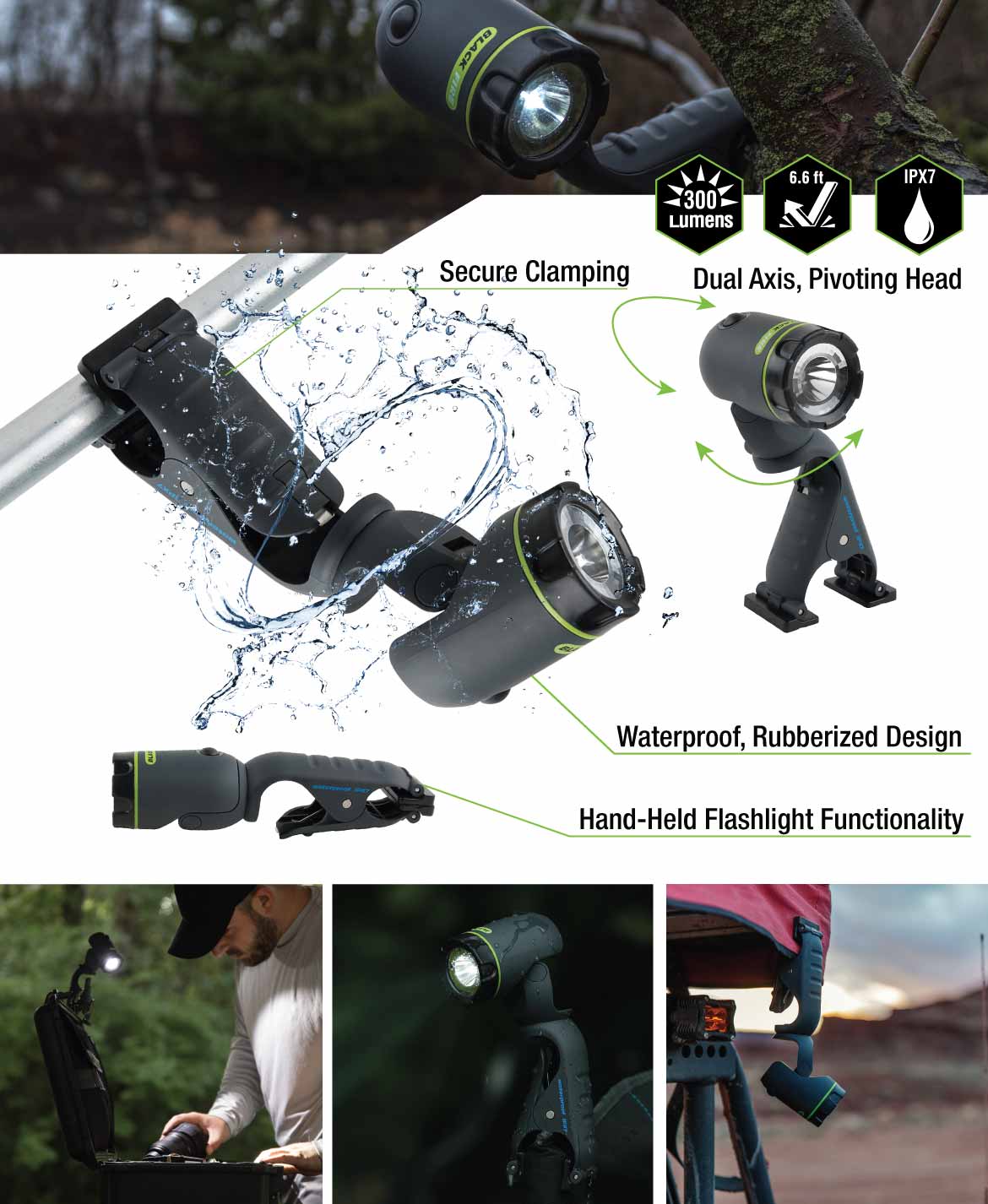 Clamplight Features:
HIGH POWER: 300 Lumens (High) 130 Lumens (Low) CREE LED
WATERPROOF: IPX7 Construction with non-slip rubberized coating
MULTI-FUNCTIONAL: Hand-Held, Clamps,& Stands
ANGLED LIGHT: Double-axis pivoting allows for infinite light angles
DURABLE: 6-Foot drop protection with strong stainless steel springs
RUNTIME: 10 Hours on Low
POWER: 3 AAA Batteries
I am not a real "prepper" but I believe in being ready for common, somewhat predictable situations. Right now, snow is falling outside and a winter storm is on its way. With a propane heater and a Clamplight, I am not afraid of freezing in the dark when the power goes out.
Clamplight runs 10 hours at low power and 1.75 hours on bright. I have been in the dark before. I did not like it. If I decide to jump in the camper and head for the equator until the snow stops, I am taking Clamplight with me.
I have used Clamplight while vehicle camping and shooting. It is the closest thing to a universal light I have ever seen. It is lightweight and compact. It will attach to anything or stand on its own two feet, and light up anywhere hands-free. What is not to like?
You can get you very own Blackfire Clamplight or see what others had to say about it HERE. MSRP is, as mentioned, $29.99.
About Blackfire:
Blackfire is an outdoor gear brand consisting of products created by a group of product development wizards at Klein Tools. This specialized team has spent as much time in the great outdoors as they do on the jobsite to develop the addiction for outdoor-related products and tools. Concerned with the lack of quality with current outdoor products on the market, our team looked toward the strengths of their own jobsite accessories and brought them along for the journey. We quickly realized the advantages of our durable and reliable gear, as we are very tough when it comes to using them in the outdoor elements. We knew the products could withstand the rigors of the jobsite, but recognized that they needed to be adapted to the needs of the outdoorsmen vs the tradesmen. Thus, one dark night, while sitting around the campfire, the idea behind the brand was created. That idea was the essence of the Blackfire product line!