In a year with an election, a global pandemic, rioting, and ammo shortages, training is more important than ever. The ONLY way to be prepared for self-defense is to train on a regular basis. How can we do that with range closures and travel restrictions? 21st-century training gear is the answer.
The ugly truth is that, even during the best of times, most shooters don't train as they should because it's too expensive to do live-fire training and too boring to do dry fire training. Here are some gifts that might give you and your loved ones the gift of motivation and proficiency.
Free Trauma Training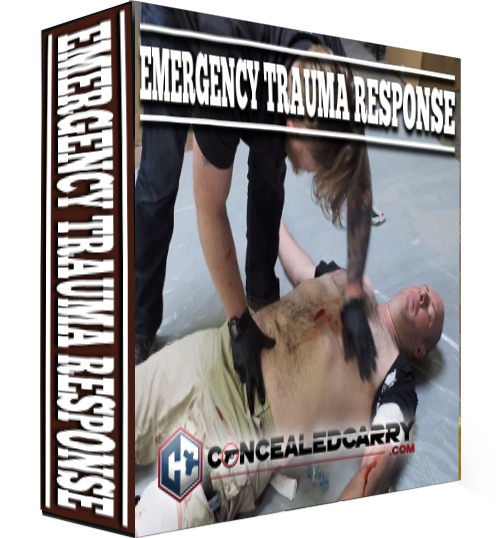 Before I get to the list of goodies. I want to direct your attention to something free and priceless; medical training. Every human should know basic trauma management. The pros at Mountain Man Medical have produced a high-quality class and put it online for free. Take this class and share it with your friends.
Click here for Mountain Man Medical's Free Training
The video training course is entitled "Emergency Trauma Response" This 100% FREE video-based course can be viewed online from any internet-connected device and is a comprehensive training program for anyone who wishes to be prepared for trauma-based medical emergencies.
There is no replacement for live-fire trigger time. If you have an AR, you can switch to available .22 ammunition and keep shooting. Just swap this CMMG drop in conversion with the bolt carrier group from your 5.56/.223 chambered rifle and you will be ready to shoot .22LR.
The Bravo package ships with 3 10rd magazines. They also offer higher capacity magazines and/or additional magazines that are reasonably priced and available. The magazines are the same size as AR magazines so they fit in your pouches.
I have had an older version of the CMMG conversion kit and have shot thousands of rounds over the last ten years. It is a great choice for kids and new shooters. It is a blast to shoot pistol steel targets with an AR!
Like many .22s, these adapters are a little ammunition sensitive. CMMG recommends 36 grain plated round nose bullets for best performance. You should use a round style hammer as notched hammers can hang up.
CMMG AR .22LR Conversion Kit Bravo with three 10 round magazines
Stainless Steel Construction, includes 3 10rd Magazines. Works in most 5.56/.223 chambered rifles. MSRP: $229.99
2. ProForce M17 airsoft pistol with SIG Air Reflex Sight
Airsoft guns are common, what made the ProForce shine for me was the SIG AIR Reflex Sight. Engineered specifically to work with SIG AIR Products, it is the perfect trainer for red dot sights on handguns. Changing from iron sights to a red dot takes many repetitions of drawing and sight picture. The ProForce M17 fits in my duty holster and the handling and sight picture is identical to my full-size M17.
Using a wide 23mm field of view, the SIG AIR Reflex sight has everything you would want from a traditional red dot. From Elevation and Windage adjustment and 6 level easy touch intensity controls, The SIG AIR includes mounting plates for SIG AIR Airgun and Airsoft P320 Platforms. MSRP: $49.99
3. IC13 F.A.T. Targets for Airsoft BBs
I have been shooting at home a lot lately, trying to save ammo while keeping up my skills. IC13 F.A.T. Targets are real game-changers. You want a realistic target and you want feedback. Airsoft BBs are fast enough to go through cardboard but if you shoot regular targets, you get a mess.
Training with airsoft, little plastic BBs go everywhere, even in the yard it is a pain. F.A.T. targets trap airsoft BBs when you hit the A-Zone. All the training with none of the hassle. The steel trap gives a nice audible feedback for every hit.
Using FAT Targets with an airsoft gun can provide feedback while you hone your draw and shooting mechanics. With a couple of them together, you can practice IPSC stages or conduct scenario-based training at home. MSRP: $75.99
Tough Targets are 39"x39" cloth targets with enough drills and targets to keep your dry training fun and your mind challenged. The colors, the variety of targets, and more than 50 base drills will give you the variety and novelty your brain craves to have more fun and learn faster.
The targets are designed so you can use them to train for law enforcement qualifications, USPSA or IPSC, IDPA, AGAG, as well as many of the more popular drills like the Bill Drill (using the FLETC racetrack as the A-Zone), F.A.S.T., 5×5, Head Shot Standards, and more drills and standards that you'll receive along with your target. Sale price $27.
5. MantisX
Mantis is a tiny computer surrounded by gyroscopes and accelerometers which attaches to any Picatinny rail. It collects movement data before, during, and after your shot. It pairs to your smartphone via Bluetooth 4.0 and a free app acts as a robot coach to analyze the data and diagnoses your shooting mechanics. A coaching feature then tells you how to do it better with tips and video. Some models will coach live fire as well as dry fire.
MantisX can also be in a CO2 mode using airsoft guns like the ProForce pistols to provide recoil action (no need for BBs), the MantisX will monitor your smallest movements and anticipations.
6. Smart Firearms Training Device
Smart Firearms makes two handgun models which fit most Safariland and Blackhawk Duty Holsters for SIG/ S&W and Glocks.
Features:
-Unintentional Discharge Sensor which detects a finger in the trigger guard
-Removable Weighted Magazine
-Simulated Adjustable Night Sights
-Speaker System
-Laser Capable
MSRP starts at $119
The SF-M4 SBR Electronic Laser Training Rifle is a brand new training device with features never before seen on any other training gun.
Features:
Unintentional Discharge Sensor which detects a finger in the trigger guard when not actively shooting.
Round counter which tells the gun to go "empty" after a programmable number of rounds requiring reload.
Working trigger and gunshot sound.
Mini USB Rechargeable.
Rumble motor which gives a sensory indication to the hand that the gun is firing.
Collapsible Stock.
Cast aluminum construction.
Come with a standard 780 Infrared Laser. Red laser also available.
Tactical Rail ready to accept your sighting device – Flip-up sights NOT included.
7. Weights and Plates
Armor plates may seem out of place in a post about training. These are not just any plates, they are steel. In her book, "Smart Move", Kita Busse recommends using a weight vest for movement training. Many other trainers also recommend weighted vests to improve strength and agility.
You could buy a weight training system, but why not get some weights that can stop rifle rounds? If you don't have a plate carrier, Primier Body Armor sells those too. The plates weigh about five pounds each and sit very close to your body.
Unlike their lighter ceramic cousins, steel plates don't crack when you drop them and maintain their ballistic integrity for many many hits. They have a spall coating which limits flying fragments and ricochets.
MSRP $129.95
The IcePlate Curve is a plate shaped hydration system that you fill with water. You can heat or freeze the water to cool or warm you while providing 50 oz (1.5 L) of hands-free hydration. IcePlate Curve can be worn inside any Medium ESAPI-compatible plate carrier by itself for training weight. MSRP: $80
8. S.T. Action Pro Dummy Rounds
If you are going to train reloads and malfunctions, you must have dummy rounds. S.T. Action Pro Action Trainer Dummy Rounds are the most durable dummy rounds made. They come in the most common calibers.
Why are they so good? Orange color makes them easy to find on the ground or carpet. They glow brilliantly under black or blue light at night. The brass case eliminates rim breakage. One-piece ABS insert will not compress. A recessed primer hole prevents damage to your firing pin. (This can cause a problem with Gen5 Glocks where the striker can push through and jam the gun up)
9. Rogers Shooting School Tap Rack Training Aid (TRT)
Rogers Shooting School Tap Rack Training Aid (TRT) was developed to safely practice dry fire and reloading drills with the magazine in place. The TRT leaves zero chance of accidentally loading a live round.
TRT loads into an empty magazine and keeps the magazine follower positioned so that it will not engage the slide stop or bolt catch. The slide of the pistol or bolt of the rifle can passes over the TRT without stripping it from the magazine.
Manufactured in the USA
5 Pack of 9MM/.40 cal, .45cal, or 5.56. – $10.00
10. CoolFire Trainer
The CoolFire system is a CO2 gas powdered kit that replaces the barrel in your pistol to simulate recoil, while cycling the slide and cocking the hammer or striker of your gun. The big advantage here is, unlike training guns, you can use your sights and your trigger for very specific training.
Each CoolFire System includes:
-A CO2 powered CoolFire Trainer barrel replacement (specific to your model of handgun)
-A recoil spring and/or rod that replaces your gun's recoil system
-2 Rogers Shooting School Tap Rack Training Aids for your gun's magazine to prevent slide lock
-2 spare striker tips, grease, hex key for adjustment or purging
-A CO2 fill adapter
MSRP for SIG Model system $329
CoolFire also offers an integrated laser to convert your pistol into an effective firearms training tool to maintain and enhance your firearms skills while saving money and conserving ammunition.
That wraps up my favorite training aids. Some are cheap and some are dear, but with the availability and cost of ammunition, restricted access to training venues and limited travel, the calculus of training value has changed.
Don't be caught short. Winter is here and the future seems chaotic. Indoor training has a strong appeal.